Team WotTA proudly presents...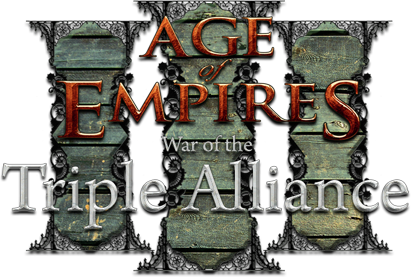 Gamma 1.0
The greatest modification for Age of Empires III
The Team & Others
What you should know before installing War of the Triple Alliance:
The mod requires the original

Age of Empires III

and its both expansion packs,

The WarChiefs

and

The Asian Dynasties

.
The mod requires also that you update TAD to 1.03 - without the patch, it's impossible to play the mod.
You must have a clean install of the game, without any mod installed. WotTA is

not

compatible with any other mod, not even WotTA's previous versions.
WotTA auto-installs, for your convenience.
WotTA is free and must not be sold.
WotTA has been made by fans - and has many bugs that should be pointed out to be fixed in the upcoming patches.
WotTA typically modifies your game permanently. Typically, you

must

reinstall the game entirely whenever you want to play the clean version of the game, but to keep both WotTA and the unmodded game, see here.
WotTA cannot be played on ESO, but can on Hamachi, Gameranger and LAN games.
LATEST PATCH
(Don't forget to download the latest patch! Click
here
! Includes the Throne Room. Install WotTA before patching.)
---
Can't download from the links above?
Download from torrent (Bittorrent client needed!)
Mac Download from torrent (Bittorrent client needed!)
The mod is also available at Age of Empires 3 Heaven divided in ten parts:
Available at http://www.hawkaoc.net:
Tutorial - installing Chatsets
Known important bugs that you may need to fix, or be aware of:
1.
Models appear black or with wrong texture.
Modding is done by replacing textures of old models, giving them a new look. Your video card gets exhausted at some point of the game due to lack of memory, causing models to show their original texture. This cannot be fixed. This will usually happen when you reach industrial age and you'll see a "weird" buildingset. You can see the correct textures at industrial age by saving the game, closing the game entirely, and loading the saved game. Video card will be refreshed and you'll see the industrial age textures.
2.
My deck says I have 20 cards, but it only shows, for example, 16 cards.
This is a silly error we didn't see and will be fixed soon. To fix this, just open My Documents/My games/War of the Triple Alliance/savegame, open your homecity and delete all the cards from your current deck. Then, ingame, select them back. Fixed.
Tutorial
3.
I cannot create a homecity for Koreans, Portuguese, Spanish, Sioux...
there's an unfortunate limit of 14 civs available at the "create a homecity" screen. So, in order to play as those civs, you must use
Throne Room
to switch which 14 civilizations you'd like to load.
---
War of the Triple Alliance adds/replaces the following:
9 new civilizations have been added: Brazilians, Paraguayans, Colombians, Argentines, Mexicans, Americans, Canadians, Tupi and Koreans.
40 new random maps have been included. The WotTA-only ones can be found in the main list; the others, by clicking on "Custom Maps" at the skirmish screen.
9 new Native Settlements can appear on the new maps. They are: Bandeirante, Republiqueta, Quilombola, Guarani, Guaicuru, Aymara, Pirate, Order of Christ and Sertanejo.
Age up to a brand new age: The Great War age. At age V you can research a new tech, Great War, that will enable World War I-themed units such as zeppelins, airplanes, dreadnoughts, tanks, and several new techs.
Two brand new cultures: Latin Americans and North Americans. Each with an exclusive gameplay!
Church completely redesigned. When playing as Europeans, Latin Americans or North Americans, you can adopt a religion and enable the redesigned priest and multiple religion-specific techs! There are 10 different religions to choose.
Revolutionaries redesigned. New bonuses, new politicians, new units!
Spies completely redesigned. Now available to all civs but Latin Americans, use them to attack stealthy in several ways.